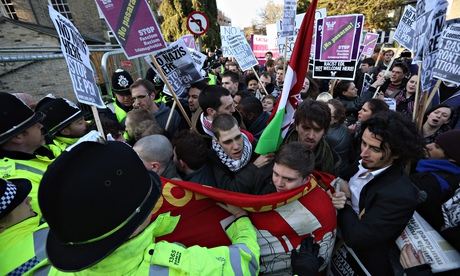 Four campaigners have lodged a complaint with an official watchdog, alleging that they felt intimidated by covert
police
officers who were trying to persuade them to spy on their political colleagues.
They say that coercive and at times repeated police approaches caused them to abandon their political campaigning, or left them stressed and paranoid.
They also say that the clandestine manoeuvres to spy on students, environmentalists, anti-fascists and other campaigners erode free speech and the freedom to protest.
One of the quartet, a 23-year-old single mother,
said she stopped campaigning
against racism after police threatened to prosecute her if she told anyone, including her mother, about the attempt to recruit her as an informer.
She said she was left "feeling violated, isolated, vulnerable and paranoid" as she worried that any prosecution would imperil her young son, her place at university and her opportunities to work in the future. She said that at one point, police were calling her daily and sometimes twice a day to try to recruit her.
Their lawyer,
Jules Carey
from the civil liberties firm
Bindmans
, said : "It is not only right but imperative for the health of our democracy that police forces are challenged when they use spy tactics that undermine freedom of speech and rights to protest without the strongest of justifications."
Their submission to the
Independent Police Complaints Commission (IPCC)
comes as controversy increases about the police's undercover infiltration of political
groups that campaigners insist
are engaging in legitimate protest.
http://www.theguardian.com/uk-news/2014/aug/04/campaigners-ipcc-complaint-police-recruit-informers