Former US navy captain gave information to Chilean officials that led to executions of journalist and student, judge finds
Associated Press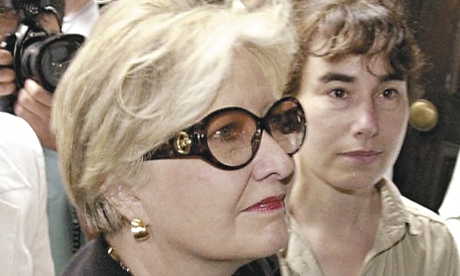 A Chilean court has said US military intelligence services played a key role that led to the killings of two Americans in
Chile
in 1973.
A court ruling released late on Monday said a former US navy captain, Ray Davis, gave information to Chilean officials about journalist Charles Horman and student Frank Teruggi that led to their arrest and execution days after the coup that brought General
Augusto Pinochet
to power.
"The military intelligence services of the
United States
had a fundamental role in the creation of the murders of the two American citizens in 1973, providing Chilean military officers with the information that led to their deaths," the ruling said.
The judge Jorge Zepeda upheld a decision to charge Pedro Espinoza, a retired Chilean army colonel, with the murders, and Rafael Gonzalez, a former civilian counter-intelligence agent, as an accomplice in Horman's murder. The two Chileans and Davis were indicted in 2011.
Davis commanded the US military mission in Chile at the time of the American-backed coup that ousted the democratically elected government of the leftist president Salvador Allende.
Davis was investigating Americans in Chile as part of a series of covert intelligence operations run from the US embassy targeting those considered to be subversives or radicals, according to the judge's investigation. Officials at the embassy in Santiago had no immediate comment.
Believing Davis to be living in Florida, Chile's supreme court approved an extradition request after he was indicted in November 2011. But Davis was secretly living in Chile, and he died in a Santiago nursing home last year.
Horman, 31, a freelance journalist and film-maker, was arrested on 17 September 1973. A national truth commission formed after the Pinochet dictatorship ended said Horman was executed the next day while in the custody of Chilean state security agents. The commission said Teruggi, a 24-year-old university student, was executed on 22 September.
The search for Horman by his wife and father was the topic of the 1982 movie Missing, starring Sissy Spacek and Jack Lemmon. The film won an Oscar for best adapted screenplay and was nominated for best picture, actor and actress.
The film suggested US complicity in Horman's death
http://www.theguardian.com/world/2014/jul/01/chile-us-intelligence-1973-killings-americans